Hello loves!
I decided to do something different today than "W.I.L.W". So here is my wishlist of items I have been wanting to buy (but don't have the money) for
FOREVER
!
1. Urban Decay's Naked Palette - $48
Look how pretty these colors are! There are 12 different eyeshadows included in this palette. I could make a million eyeshadow looks, from light to neutral to smokey. It now comes with a brush instead of the 24/7 eyeliner (which I also want to try), which is kinda upsetting, but I guess I could use an extra eyeshadow brush.
2. Benefit's Boi-ing Concealer - $19
Benefit claims that it is the "world's best concealer". I love concealer, so this will be my next purchase at Ulta once I get paid.
3. Benefit's They're Real Mascara - $22
This mascara is a brand new product Benefit just came out about a month ago. I have read reviews on it, and everything I have read has been positive. I like mascaras that don't clump or flake during the middle of the day, and supposedly this mascara does neither. So that is a plus in my book. Only drawback I have is paying $22 for a mascara.
4. Hot Tools CeramicTI Tourmaline Curling Iron - $40-50
So, some of you might be saying, "A curling iron? Girl your hair is already curly." Well yes, my hair is naturally curly, but sometimes I want to curl it from straightened hair to get Kim Kardashian type hair. I can't do this if I don't have a curling iron, which is why this one is on my wishlist. The 1 inch barrel seems to be the best choice for me right now, but who knows, I might go with the 1 1/4 inch.
5. Sally Hansen Complete Salon Manicure in Barracuda - $7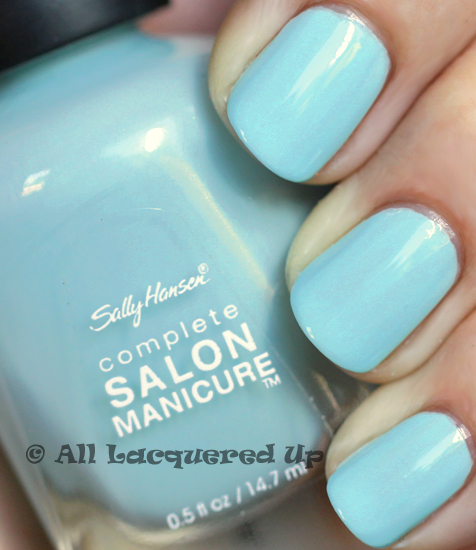 I have to have this color. It reminds me of China Glaze's For Audrey which is like a Tiffany's blue. Barracuda is a gorgeous pale blue creme, which is perfect for the summer! (Although summer is almost over *sad face*)
6. Sigma Beauty Premium Professional Brush Kit - $149
This brush kit comes with a brush roll, and 15 brushes total. There are 7 face brushes, 7 eye brushes, and a lip brush. Look how soft and durable these brushes look! I have only heard AMAZING things about these brushes, and I can't wait to get my hands on this kit.
7. Sigma Beauty Bare Palette - $35
This palette comes with 8 different neutral eyeshadows (I guess I love neutrals), and are supposedly super pigmented, which is a plus. I'm sure if I had this palette my everyday eye makeup would consist of Elope on my lid and Act in the crease. Also, it comes with a brush with a pencil end and a blending end, which is Sigma's best selling brushes. Yes please :)
8. Bath and Body Works Three Wick Candle - $19.50
These candles smell SOOOO good. I bought 2 of them for my birthday when they were buy 2 for $20, which is a STEAL, and they lasted me a good month or so burning them everyday. My favorite scents from B&BW are Japanese Cherry Blossom, Sensual Amber, and Fresh Cotton.
9. Not Your Mother's Beach Babe Texturizing Sea Salt Spray - $6
Sometimes I want my hair to have that beachy look to it, and hopefully this sea salt spray will help me achieve that look. I have never used a sea salt spray before, but I have heard good things about Not Your Mother's hairline, so I am willing to try this spray out. If it doesn't work, oh well!
10. Urban Decay's All Nighter Setting Spray - $29
This stuff helps your makeup to last all day/night when it's warm, cold, humid, or rainy. I could definitely use this to set my makeup, especially right now when the temperature gets up to 100 degrees.
11. Betsey Johnson Lady Luck Horseshoe Drop - $40
How freaking adorable are these!!! I love the horseshoe with diamonds (maybe because I am a Colts fan), so this pair of earrings are
SO CUTE
to me. Plus, I love the pink bow and rose. :)
Let's add up the total amount of dollars I would have to spend to get
ALL
these items. Drum roll.....
Grand Total - $420
Well I don't think I will be spending this much anytime soon. Maybe one per month, since I finally got a job!! :)
Until next time,